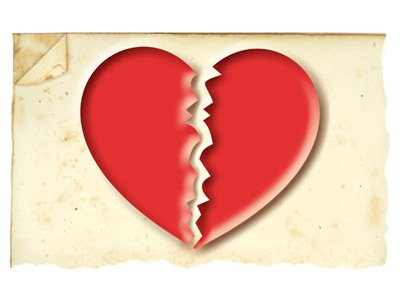 It seemed like an unbreakable bond. You thought they were the one for you, your one true soulmate; yet somewhere down the road, things went sour and now you're no longer together. It sucks, we know, but don't worry, you're not alone. We've listed our 10 breakup songs that we think you should listen to before turning a new leaf and starting anew.
For more tears see our top 40 sad songs and top 35 heartbreak songs.
10

Nazareth - Love Hurts
Nazereth's Love Hurts may have lost some of its charm after being overplayed on the radio over the years, however, it's still one of the best break up songs out there and you should definitely check it out again.
Choice Lyric
Love hurts, love scars, love wounds
9

Guns N Roses - Don't Cry
This gem by Guns N Roses was a warm little song from 1991's Use Your Illusion. Here's hoping that Axl and the crew will go on tour again so that we can hear this one live.
Choice Lyric
Give me a kiss before you
tell me goodbye
Don't you take it so hard now
And please don't take it so bad
I'll still be thinkin' of you
And the times we had...baby
8

Ben Folds Five - Song For the Dumped
While not as sad and melodramatic as some of the other tracks we've listed, Song For The Dumped takes a more hateful yet humorous approach to getting dumped.
Choice Lyric
So you wanted to take a break
slow it down some and have some space
well fuck you too
7

Pearl Jam - Black
Eddie Veder has an incredible voice and a lot emotion is running through it in this song about a man who's heartbroken and trying to forget about his former lover.
Choice Lyric
All the pictures had all been washed in black, tattooed everything...
All the love gone bad, turned my world to black
6

Alanis Morrissette - You Oughta Know
Who would have thought that getting dumped by Uncle Joey from Full House would mean that start of your music career. For Alanis Morrissette, that was the case when she released Jagged Little Pill.
Choice Lyric
I hate to bug you in the middle of dinner
It was a slap in the face how quickly I was replaced
Are you thinking of me when you fuck her?
5

Ben Harper - Another Lonely Day
Probably one of the saddest songs in this list, though it may just be the sincerity in Ben's voice. Another Lonely Day is just that. Caution: Have a tissue paper handy when you listen to this.
Choice Lyric
Yes indeed Im alone again
And here comes emptiness crashing in