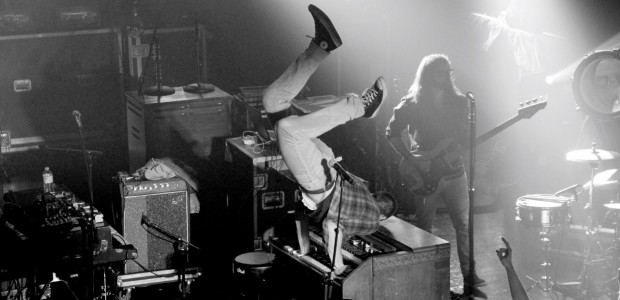 Out on tour in support of their album, Odd Soul, Mutemath were in Montreal playing at Le National; we had the chance to chat with lead singer/keyboardist Paul Meany prior to the show. We talked about how they pass their time on tour, if they've started working on new music, what some of Paul's favourite live shows were, and more.
A couple of highlights and the full video interview can be found below. Also be sure to take a look at our Mutemath photo gallery for pictures from their Montreal performance.
You've been touring for about a year now, have you started thinking about a new album?
Absolutely. We're writing parts right now. For us, it's just kind of creating the fragmented pieces of the puzzle, and when we get off the road, we'll try to start putting pieces together and make songs.
You guys are known for your live shows, and for people that haven't seen you live before, what sets you apart from the rest?
...We want to put on a good show for people. We realize we're entertainers and we hope that the couple hours people give us of their time we can create an experience that you just forget about other things. You know, it's just a very nice escape. Growing up, some of my favourite shows I went to, that's what it's all about. You just get to forget about everything. It's mind-clearing, it's transcendent, and if we can come close to any of that for the people that come to our shows, we're very happy.
Enjoy the full video interview, and while you're at it, subscribe to our YouTube channel for more exclusive interviews.